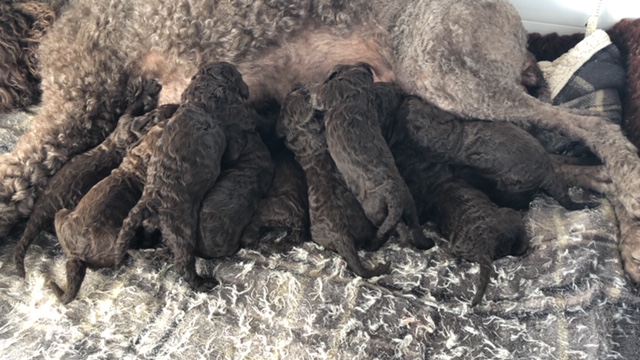 Welcome to the Nursery
Please find a regularly updated page of available puppies

.
PLEASE NOTE; WAITING LIST FAMILIES HAVE FIRST SELECTION OF LITTERS HOWEVER IF ANY PUPPIES BECOME AVAILABLE THEY WILL BE INDIVIDUALLY POSTED BELOW
F1 Cockapoos October 2020 – ALL SOLD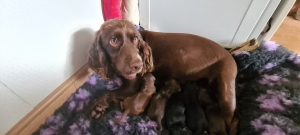 Breed: F1 Cockapoo
Born: 10th October 
Sex: Males & Females  
Mother: Crystal – Homebred Chocolate Cocker Spaniel
Sire: Jacob – Red KC Reg Miniature Poodle
Ready: 5th December
 F1 Cockapoos are the result of a first cross between a Cocker Spaniel & Poodle. 
 ~



These puppies ooze quality, have gentle kind loving temperaments already and are the perfect combination of Miniature Poodle and Cocker Spaniel making them the perfect family pet and a manageable size. 



All of my puppies are lavished with love and attention. I make sure they are very confident sociable puppies before leaving for their new homes and never leave before they are at least 8 weeks of age. They are wormed with Veterinary approved wormers and fed with high quality well known branded puppy food giving them the best start with no expense spared.
I do offer a waiting list up to 6 months ahead of expected litters for potential new owners, so you can have enough to time to carefully consider and plan for your new arrival – please visit "planned litters" page. In this time you are more than welcome to come and meet me and my dogs, carefully choose the right puppy for you and feel more of a sense of  involvement as I welcome your new puppy into the world.
My puppies leave with the following: Microchipped with documentation, Nobivac DHPPI ONLY 1st part vaccination, full Veterinary Health Check, complete diet sheet, worming record since birth, socialisation sheet, 4 weeks insurance with Buddies Breeder, puppy care sheet, a bag of food, own puppy lineage and a scent blanket.
Occasionally I do have older dogs available for rehoming that are retired from breeding.
~ 
Gabby & Dixie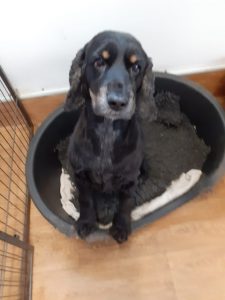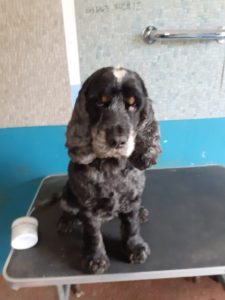 8 Year old homebred litter sisters, they are joined at the hip and will only be rehomed together. 
Home requirements: Would suit a retired couple, rural – semi rural setting, gentle strolls but will not go outside in the rain! Good with children, have been around cats but not recently, they are very loving girls who deserve only the best home. Both girls are spayed and a home check and rehoming contract applies. Ideally would like these girls to be rehomed locally.
Please apply with your full details, outlining your circumstances and provide a photo of your garden. 
~
Ella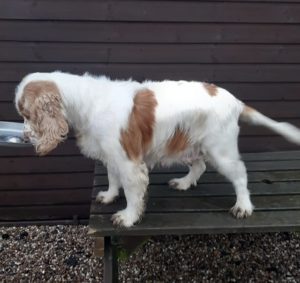 Chunky Orange & White larger 7 year old spaniel.
Home requirements: Ella may need time to settle in and get to know her new owner before she shows her best side, she is affectionate and loving. She loves running around freely barking at birds and jumping in any muddy puddle she can. She would suit an active household in a rural – semi rural location. She is not suited to a household with very young children however she is good with other dogs and loves her basket and toys but will not share! She would not be suitable to be left alone for any length of time unless she has another dog for company. Ella is due to be spayed before rehoming is finalised.
Please apply with your full details,  outlining your circumstances and provide a photo of your garden. A home check and rehoming contract applies. 
~
CANT FIND WHAT YOU ARE LOOKING FOR? 
Click here to visit planned litters
Licensed by Warwick District Council DB04/20