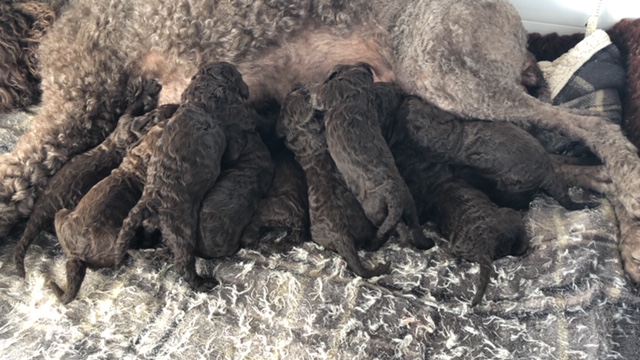 Welcome to the Nursery
 Please find a regularly updated page of available puppies.
 PLEASE NOTE; WAITING LIST FAMILIES HAVE FIRST SELECTION OF LITTERS HOWEVER IF ANY PUPPIES BECOME AVAILABLE THEY WILL BE INDIVIDUALLY POSTED BELOW.
 All of my puppies are lavished with love and attention. I make sure they are very confident sociable puppies before leaving for their new homes and never leave before they are at least 8 weeks of age. They are wormed with Veterinary approved wormers and fed with high quality well known branded puppy food giving them the best start with no expense spared.
I do offer a waiting list up to 6 months ahead of expected litters for potential new owners, so you can have enough to time to carefully consider and plan for your new arrival – please visit "planned litters" page. In this time you are more than welcome to come and meet me and my dogs, carefully choose the right puppy for you and feel more of a sense of  involvement as I welcome your new puppy into the world. 
All my puppies leave with the following:
Vaccinated
with 
Nobivac DHPpi first part vaccination, second to be completed by yourself.
Full Veterinary certified Heath check.
Microchipped with details transfered into your name. 
Socialisation sheet.
Diet sheet.
Worming & Treatment record since birth.
4 weeks free insurance.
Royal Canin puppy welcome pack.
Puppy lineage certificate.
Scent blanket & toy.
I provide aftercare to support you and your new addition.
Occasionally I do have older dogs available for rehoming that are retired from breeding.
Puppies Available
F1 cockapoos
 Crystal and Jacob are proud to present their seven incredible babies, two girls and five boys. Colours are dark sable, light sable, black and chocolate. Both parents can can be seen on their respective pages where you can learn more about them. Mother is a small, very obedient chocolate cocker spaniel and father is a bouncy, red minature poodle. Both are fully health tested.